Tomorrow (November 14) one of the biggest gaming fairs will start in the Lower Silesia. It is Hall of Games fairs that will last 3 days. It is as a great opportunity to meet game creators and to get to know new game productions. There will be game tournaments, workshops and the biggest board game fans jamboree in the region.
We also going to be there!
Come and create your own board game thanks to Boardcraft or play Icetris skill game.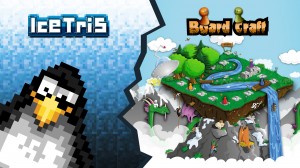 For more information follow us on:
If you plan to visit the fairs we would like to invite you to download our competitive application to win some prizes.
The aim of this game is to collect as many points as you can. You can get them by:
– sloving riddles (journalist's path)
– doing tasks on the stands (player's path)
– attending lectures (scholar's path)
Of course you can solve the riddles of any type! Choose tasks and fight for every point!
The player who gets most of all points wins the prizes endowed by organisers!
For iOS and Windows Phone users go & check the web version.
Share and Enjoy